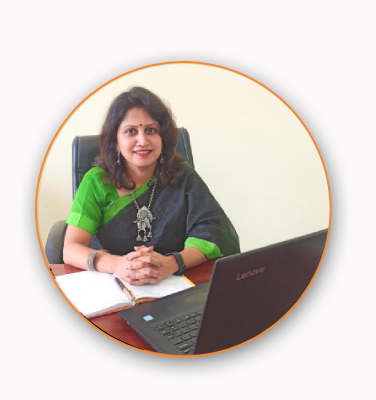 Mrs. Sudeshna Mairal
Principal
---
"Every child has a different learning style and pace. Each child is unique, not only capable of learning but also capable of succeeding." ~Robert John Meehan
Here, at TNR Excellencia Academy, this is what we believe in. We take pride in having a committed team of well qualified educators who make sure that children not only shine in academics, but bloom in all areas of life. For us, the child comes first. We understand that only academic excellence isn't enough, being a good human being is what is required to create a better society.
We strive to provide an environment that will enable our students to think out of the box, to communicate well, to be problem solvers and team players – for these are essential 21st century skills. We provide our students with a range of hands-on learning experiences that challenge them to think creatively, problem-solve, and collaborate with othersWe understand that each of our students is a unique individual and we respect and care for their diverse interests, talents, needs and different learning styles.
we believe in providing a holistic education that not only focuses on academics but also emphasizes the development of life skills, character, and values.
Our focus is to create such citizens who will make the world a better place. They will be true global citizens who will be kind, confident, sensitive, empathetic, tolerant, acceptive and respectful – to people and to their surroundings; We nurture them to grow up to be citizens with open minds who will make better choices in life – for themselves and for others.
This is made possible by a perfect balance of academics and co-scholastic activities.
Here, at TNREA, students are engaged through various scholastic and co scholastic opportunities that inspire them to develop creative thinking, critical thinking and confidence that further motivate them to become independent life-long learners. We understand that a school's task doesn't get over by taking care of only the intellectual needs. A child's emotional development is of utmost importance to us. Keeping in view the CBSE guidelines, we have made our school an Anger-Free Zone. This helps our students in eradicating emotions like disrespect, fear, humiliation and hurt, which are the by-products of anger. Stress-management skill is the need of the hour and we are committed to take care of this aspect as well.
We also believe in the saying that "Connecting home and school makes us a great community of learners". We, therefore, look forward to the support of the parents to bring in the best in our children, so that after the formal years of learning, when they step out in the real world, they leave with the values of respect, cooperation, persistence and strive for excellence in everything that they do.
As the principal of TNR Excellencia Academy, I am committed to ensuring that every student who walks through our doors is provided with the best possible learning experience. As a team, we believe that education is not just about the acquisition of knowledge; it is about instilling in our students a lifelong love for learning and a passion for making a positive impact in the world.